Touch Wood is, first and foremost a shop, run by parent charity EMERGE 3Rs, specialising in waste wood and timber reuse and upcycling.
We accept scrap wood from a wide variety of sources, including construction and demolition sites, and any companies who are interested in seeing their waste wood to be reused, recycled or repurposed.
The wood is collected for us by EMERGE Recycling who operate as the Greater Manchester and Cheshire collection agent for the National Community Wood Recycling Project, which is a nationwide network of wood recycling social enterprises. At our dedicated Manchester workshop, based on New Smithfield Market in Openshaw, Touch Wood sells reclaimed wood, such as batoning, scaffold boards and pallet wood, to DIY enthusiasts, builders and anyone wishing to work with upcycled materials.
EMERGE's collection operation ranges from relatively small jobs, such as pallet wood collection, through to major projects like the collection and processing of the entire original Manchester Velodrome (National Cycling Centre) track, which we undertook in 2018.
The Touch Wood Shop opens 8.30-4pm daily, in A36-37, New Smithfield Market, off Ashton Old Road, M11 2WJ. Make sure not to rely on sat nav and come in via the main entrance.
Touch Wood offers volunteering opportunities, work experience placements and training. Contact Liz or Anna in EMERGE 3Rs Volunteer Team on 0161 223 8200 Option 6.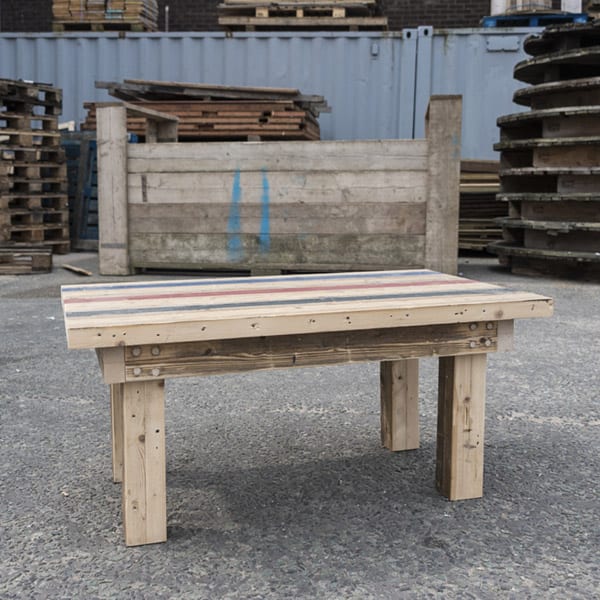 Our skilled team of staff and volunteers use reclaimed timber to create beautiful and practical products, such as home and garden furniture. We regularly create bespoke pieces to order, such as the dining table created for Olympic cycling champions Jason and Laura Kenny (pictured), made from Manchester Velodrome track.