Around half a million tonnes of reusable or recyclable electrical waste goes missing in the UK every year. We're inviting our clients, partners and Manchester residents to join us in a new campaign to collect up unwanted electrical items and save precious resources from being lost forever.
As part of the national Recycle Your Electricals campaign, EMERGE Recycling will be working with our stakeholders to encourage more people to reuse and recycle their waste electrical and electronic equipment (WEEE), from cables and laptops to toasters and hair straighteners.
WEEE is believed to be the world's fastest growing waste stream. Electrical items contain valuable recyclable materials such as gold, copper and aluminium, which are lost forever when they end up in landfill, or worse are exported overseas to toxic waste dumps in the developing world.
The Recycle Your Electricals campaign aims to make it easier for us all to recycle and reuse the small electricals we no longer need by providing more recycling points, as well as providing practical information on how households can recycle.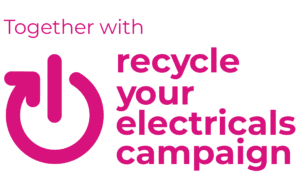 According to research from Material Focus, the not-for-profit behind the campaign, there are currently 527 million unwanted electricals being hoarded in UK households.
EMERGE Recycling already works with business customers to recycle their electrical waste, but now we're now taking things one step further by working with our customers and partners to set up collection hubs so staff and families can bring in their unwanted electricals from home.
Gareth Jones, our Recycling Director, said:
"We've been helping our clients recycle their waste electricals since 2005, but working with Material Focus allows us to take things to the next level and start focusing on reuse as well as recycling, which has always been at the core of our ethos.

 "Unfortunately, the pace of technology change in recent years has encouraged a throwaway culture which is creating a huge amount of unnecessary waste. A lot of items are thrown away for common repairable faults – we want to put at an end to that by supporting a culture of repair and reuse."
On how other organisations can get involved, Gareth added:
"We're looking to work with businesses, schools, housing associations and community organisations to set up amnesty collection hubs for staff and residents. We'll provide designated bins and take them away when they're full.

"We'll also be providing a collection service for households in and around Manchester who cannot get to their nearest recycling point. Everything we collect will be assessed for reuse potential and then either repaired or sent to accredited reprocessors. All of our reprocessing partners have been audited so we know where the material ends up – that's really important to us."
By hosting a collection point you can play a vital role in tackling electrical waste and helping us to build a greener, circular economy. If you're interested in taking part or would like to know more, please contact us via recycling@emergemanchester.co.uk or call 0161 223 8200.