Around 300,000 tonnes of valuable electrical waste is thrown away in domestic and commercial rubbish every year and lost forever. You can help us make sure unwanted electrical items end up in the right place. 
Waste electrical and electronic equipment (WEEE) is a growing problem. Recent research shows that we produce an estimated 1.45 million tonnes of it per year in the UK, and much of this is lost in the waste system.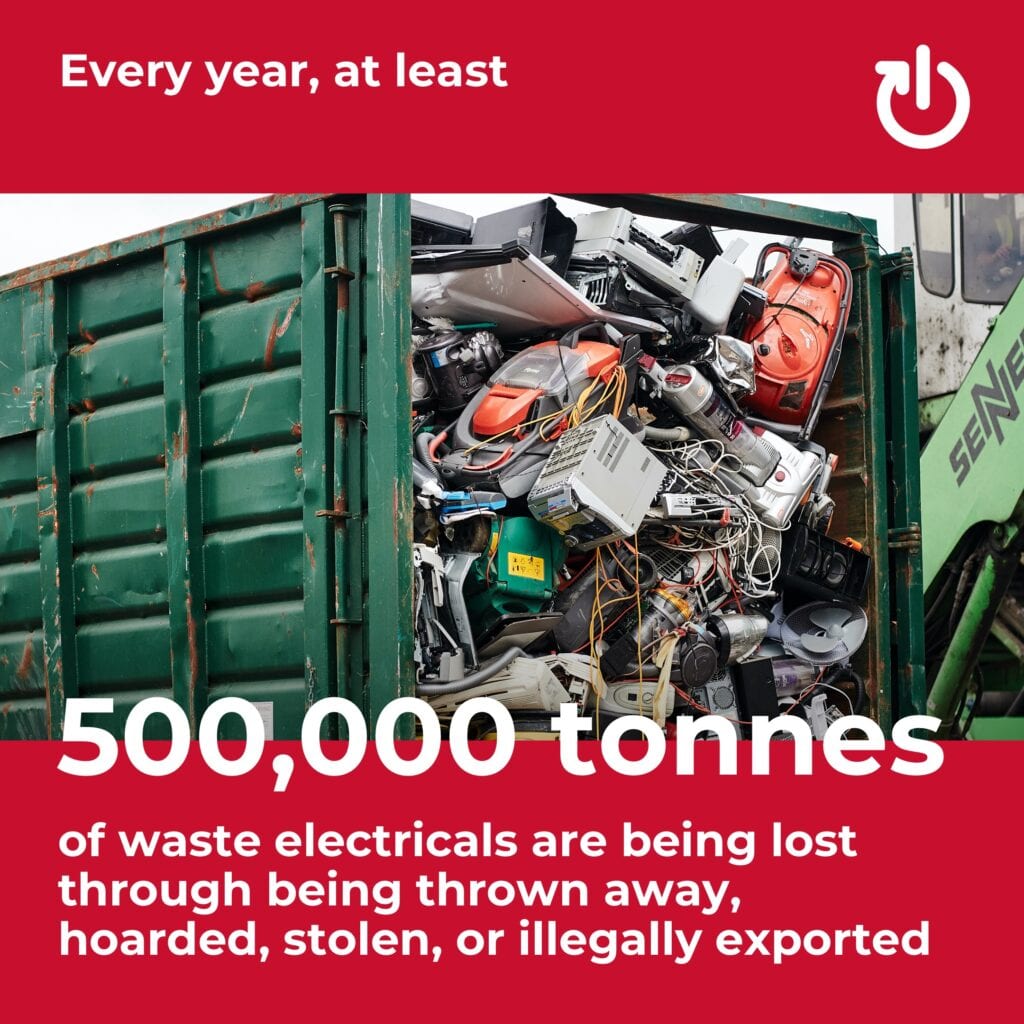 At least 500,000 tonnes of WEEE – everything from large appliances like fridges down to small items like electric toys – is not being reused or recycled. Some of it is stolen, illegally exported or hoarded in homes, but a large proportion is simply being thrown away incorrectly.
Around 155,000 tonnes is thrown away in domestic bins where it ends up being incinerated or landfilled, and a further 145,000 tonnes of commercial electrical waste is thrown away in skips with no evidence that it is recycled.
The numbers come from research commissioned by Material Focus, the not-for-profit behind the national Recycle Your Electricals campaign.
Scott Butler, Executive Director of Material Focus, explained:
"The UK is throwing away, or hoarding at least half a million tonnes of valuable materials that could be reused or recycled. More needs to be done to tackle this and ensure that we don't waste these valuable materials that are being thrown away, whether it's incorrectly disposed of, hoarded, illegally exported or stolen.   

"The focus of our recently launched 'Recycle Your Electricals' campaign is to encourage more UK householders to stop throwing away and instead recycle or reuse their small unwanted electricals."
Join our campaign
WEEE is one of the fastest growing waste streams in the world, so if we don't take action the problem will only get worse.
That's why we've teamed up with Material Focus for the Recycle Your Electricals campaign. We're calling on our clients, partners and local residents to bag up their old unwanted electricals and set up an amnesty collection hub or drop them off at EMERGE Recycling or another designated collection point.
Everything we collect will be assessed for reuse and then either repaired or sent to our accredited reprocessors for recycling, so you can be sure your WEEE ends up in the right place.
By hosting a collection point you can play a vital role in tackling electrical waste and helping us to build a greener, circular economy. If you're interested in taking part or would like to know more, please contact us via recycling@emergemanchester.co.uk or call 0161 223 8200.